Pipeline
Clarity develops its drug pipeline by in-licensing promising biological molecules, such as peptides, proteins, antibody fragments or antibodies, and progressing these to create therapeutic products and companion diagnostics for the treatment of serious diseases such as cancer, cardiovascular disease and fibrosis. This process is enabled by Clarity's proprietary SAR Technology.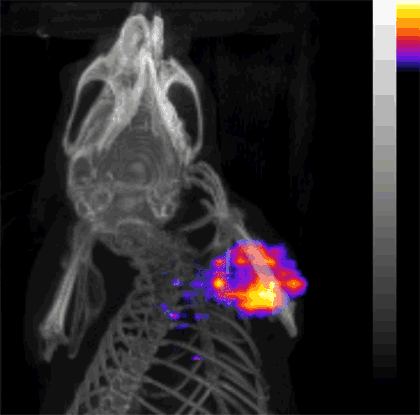 Clarity's pipeline of emerging radiopharmaceutical product candidates is aimed at covering a significant unmet therapeutic and diagnostic need in the areas which can be better served with radiopharmaceutical technologies.
Clarity conducts the development process by first performing proof of concept studies in preclinical and clinical trials to visualise and measure where a drug is going in the body and progress those drugs that best target the disease. If the initial trials are positive, and there is significant binding of the drug to the disease site but negligible targeting elsewhere in the body, Clarity further transitions the drug candidate as a therapy by determining efficacy in later stage human trials.
This theranostic approach allows Clarity to increase the probability of clinical success through better selection of patients likely to respond to therapy and by optimising dose using sophisticated dosimetry measurements of the PET images. This approach aims to increase safety, drug efficacy and the likelihood of clinical response as well as de-risk the development process.
KEY PRODUCT CANDIDATES IN DEVELOPMENT
NETs - PET Imaging
NETs - Therapy
Neuroblastoma – PET Imaging
Neuroblastoma – Therapy
Prostate Cancer – PET Imaging
Prostate Cancer – Therapy
COMPANION DIAGNOSTICS
PET Imaging Products
Pulmonary/hepatic/cardiac
Diagnostic Discovery programs

  Completed   

  Next 24 – 36 months