One Product – Multiple Applications
Clarity's lead candidate, SARTATE™, is a novel radiopharmaceutical compound for treating cancer. It employs personalised medicine to better diagnose and treat cancers by using Clarity's proprietary SAR Technology. SARTATE™ has the ability to deliver isotopes of copper directly to cancers. It utilises Copper-64 and PET imaging to diagnose where the drug goes in the body and confirm targeting. For therapy, it uses Copper-67, which kills cancer in a localised manner and has more favourable characteristics than alternative isotopes on the market, making it safer and more effective to use.
By leveraging this novel theranostic approach, SARTATE™ allows the determination of dose during the diagnostic stage with Copper-64 and deliver the right amount of radiation to the tumour for therapy with Copper-67.
SARTATE™ targets the somatostatin receptor type 2 (SSTR2), which is highly expressed in the large majority of neuro-endocrine tumours (NETs), neuroblastoma as well as other children's cancers.
The initial manufacture and development of SARTATE™ was enabled by Clarity's close collaboration with Associate Professor Paul Donnelly and his team at the University of Melbourne and Professor Roger Price and his team at Sir Charles Gairdner Hospital in Perth. The product was then translated into the clinic in the recently completed SARTATE™ proof-of-concept clinical trial for neuroendocrine tumours (NETs), which was led by Professor Rod Hicks at the Peter MacCallum Cancer Centre.
Following the first-in-human study, Clarity has commenced SARTATE™'s development as a cancer therapy for NET patients in a Phase 2a efficacy trial using Copper-64 and Copper-67 pairing. The same product is also being developed for the treatment of neuroblastoma and other children's cancers. Clarity will leverage these studies to demonstrate the commercial potential of SARTATE™ as a product and create new opportunities for the platform SAR Technology to be used for other cancers.
Based on the published data and Clarity's clinical trial results to date, SARTATE™ has the potential to treat children with neuroblastoma and other children's cancers that express somatostatin receptor type 2 (SSTR2).
Neuroblastoma is a childhood cancer affecting 10.2 per million children under 15 years of age in the United States. It is the most common type of cancer to be diagnosed in the first year of life and accounts for ~13% of paediatric cancer mortality. It is a complex and heterogeneous disease, and many factors, such as age at diagnosis and stage of disease, in addition to the molecular, cellular and genetic features of the disease, determine whether it will spontaneously regress or metastasise and become refractory to therapy. Over the past decade, advances in the clinical staging of neuroblastoma have improved risk profiling; however, there are a number of immediate and long-term side effects following existing neuroblastoma therapies. These side effects include heart or lung problems, slowed or decreased growth and development, changes in sexual development and infertility, and changes in intellectual function and development of secondary cancers, such as leukaemia.
SARTATE™'s ability to target SSTR 2, combined with the pairing of copper radionuclides, makes it ideal to treat neuroblastoma. The potential to personalise dose makes SARTATE™ extremely promising for use in children as they have a greater variation in body surface area and body weight, and for whom the side effects of current treatments may significantly impact their lives as they may live for decades. By tailoring dose and delivering the optimal amount of radiation to the tumour site, SARTATE™ increases the likelihood of treatment efficacy, minimises the side effects of the therapy and thus improves patients' quality of life.
SARTATE™ AND NEUROBLASTOMA
There is a high unmet need for neuroblastoma therapies with higher efficacy and safety profile
There is good supporting evidence to suggest SARTATE™ can be used to successfully treat neuroblastomas.
Two independent studies have shown that treatment with a therapeutic dose of radiolabelled-DOTATATE is safe, with minimal toxicity, and feasible in children with relapsed or primary refractory high-risk neuroblastoma. Although good results were observed, there is a need for more optimised dosing and tailored therapy of patients, which may be achievable with SARTATE™.
SARTATE™ AND OTHER CHILDHOOD CANCERS
Neuroblastoma is the first paediatric cancer that Clarity is pursuing. However, if the results of SARTATE™ in this clinical trial are positive, it opens up the opportunity to progress trials in other childhood cancers that express SSTR 2. These cancers include but are not limited to medulloblastomas, ganglio-neuromas, ganglio-neuroblastomas, hepatocellular carcinomas, astrocytoma and brain stem gliomas.
Clinical images using 68Ga-DOTATATE and peptide receptor radionuclide therapy (PRRT)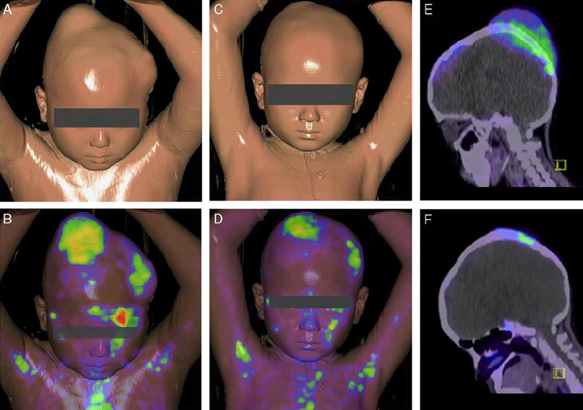 Kong et al. 2015. Despite early clinical response to initial 111 In-DOTATATE induction, this patient developed progressive disease after radiotherapy and trial of Ph1 therapy, with moderate-high SSTR expression particularly in an exophytic symptomatic skull lesion (A, B, and E). GaTATE scan after 177 Lu-DOTATATE with oral temozolamide at 3 months (C and D) and 11 months (F) demonstrated remarkable sustained functional and morphologic response, with significant clinical improvement from severely compromised to normal functional state.